6:30 AM - Registration
7:00 AM - Welcome Announcements
7:15 AM - Walk Begins
8:15 - 10:00 AM - Breakfast, Entertainment, and Prizes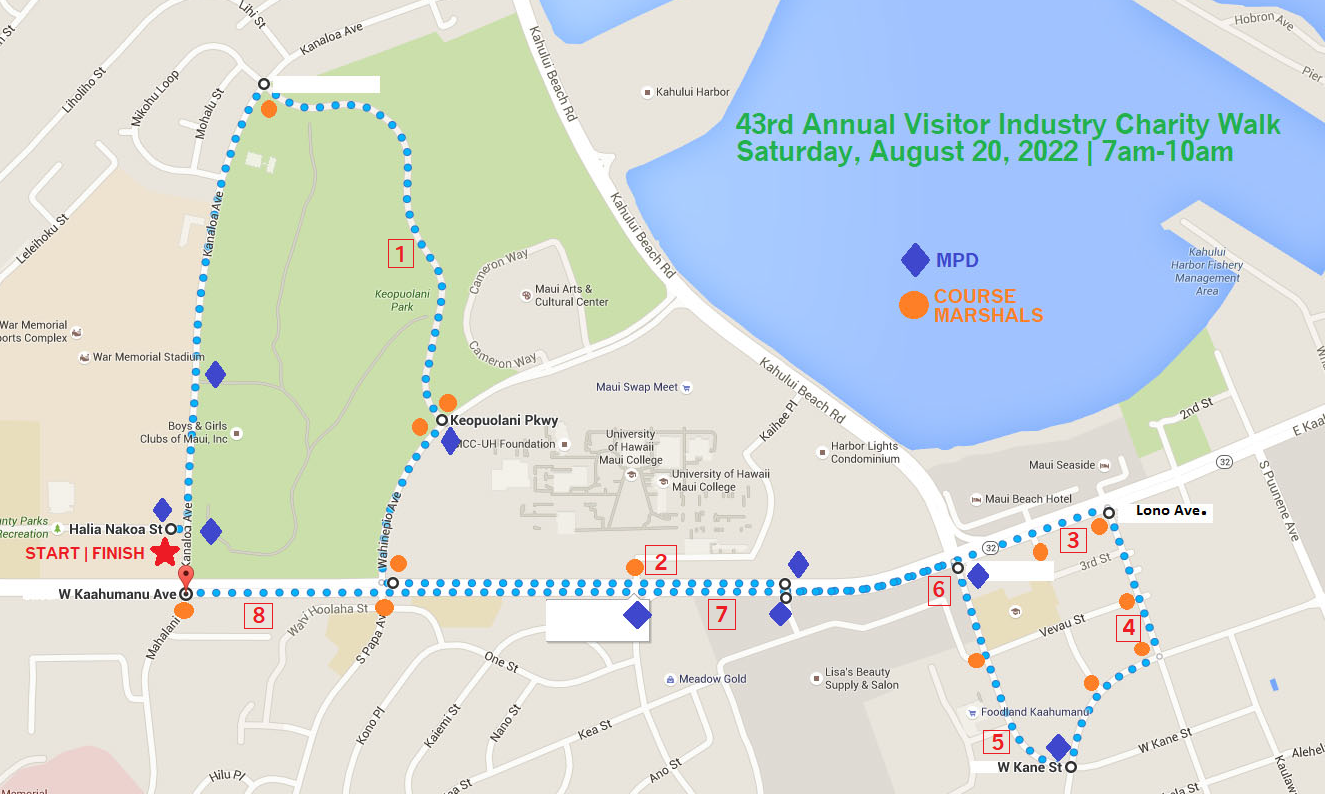 Mahalo to our Aid Station Sponsors: 1) Premier Restoration 2) Maui Condo & Home 3) First Hawaiian Bank 4) Central Pacific Bank 5) Sysco Hawaii 6) Queen Kaahumanu Center 7)HawiiUSA Federal Credit Union 8) Maui Health
About the Maui Visitor Industry Charity Walk:
The Visitor Industry Charity Walk is one of the hospitality industry's way of giving back to our communities. It is one of the largest single-day fundraising events in Hawaii with walks on Kaua'i, Oahu, Hawaii Island, and of course Maui Nui. Together the state raised just over $2 million in 2021. Maui County alone contributed to that, and raised $1,203,410 benefiting over 60 Maui County non-profit agencies!
Since Maui Hotel & Lodging Association started hosting the Charity Walk in 1980, we have raised a cumulative total of $15.3 million in Maui County. And most importantly all of the money raised here, stays in Maui County, benefiting our residents.
Register Your Team:
We are looking forward to gather again with a hybrid event the week leading up to our in-person walk on August 20 at the War Memorial Sports Complex. It's sure to again be filled with a whole week filled with fitness, fun, entertainment, and giveaways.
It's never too late to participate! Register your team today and we'll get your online fundraising Team Page setup. You can find more information in the forms below including the Recruiter's Information Packet that highlights all the details on this years event and will prepare you and your team for amazing fundraising success.
Nonprofit Participation and Grant Funding
The first 100 nonprofit organizations to complete and submit a Grant Application will be eligible for the Maui Visitor Industry Charity Walk (VICW) grants funding. Eligible nonprofit organizations include, but are not limited to, Associations, Foundations and Schools. Proof of non-profit status is required. All applicants MUST be based within Maui County and actively participate in the Maui County 2022 Visitor Industry Charity Walk held in August 2022.