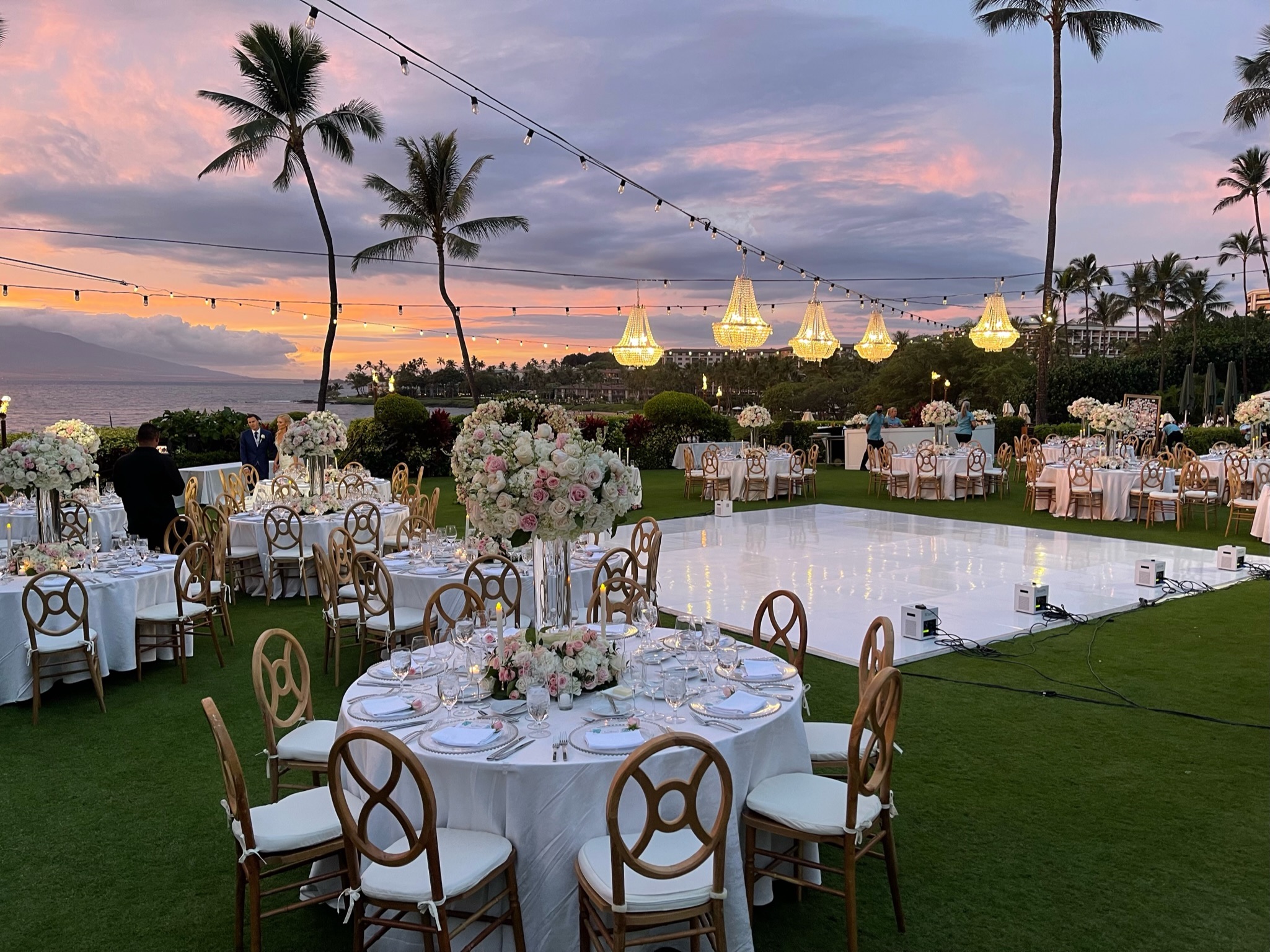 WAILUKU, MAUI – This week, we spoke with Accel Events & Tents at their Waikapu warehouse to get the inside scoop on recent trends across weddings, graduations, celebrations of life, and corporate events. Accel, based on Oahu, had wanted to expand their business to neighbor islands, identifying Maui as a bursting opportunity for event rentals with its global appeal for high end weddings. Beginning 2018, Accel came into market, acquiring 4 smaller companies by 2022.
Since the lifting of pandemic-era event restrictions, Accel has moved into a larger storage space on Maui and established a locally based management team. Gabrielle Richter, a career-long hotel and hospitality executive, stepped in as President of Accel Events & Tents and, along with her new team, have made significant inventory upgrades and big-picture moves. Gabrielle admits the business model for rentals looks quite a bit different on Maui, embracing a more sophisticated yet beachy-boho lifestyle. And service always comes first.
"Most of my business fundamentals come from years of hotel management, which is an incredible leadership training ground" explained Gabrielle. "The reason Accel handles things a little differently from other companies is because of that hospitality mindset. We've built a team of passionate, service-driven individuals who've joined us because of their love of events, community and skills built in the hospitality world."
One of the challenges for the rental industry in islands, is the shortage of local resources and safety training available, particularly for tenting. Accel has been working in partnership with the American Rental Association (ARA) to create the first ever local taskforce in islands, and a professional training program this July. Event and equipment rental companies will have the opportunity to learn critical safety skills, without flying to the Mainland. "We believe in community before competition," says Gabrielle "and it's important that as vendors we work together to elevate the standards, and subsequent event experience, for Maui and the State." With labor shortages and optimal training often limited for the islands, this is one of many ways the hospitality industry is providing positive workforce development solutions.
An additional advantage the Accel team has on Maui is the availability of an in-house event planner and designer. Tyler Mackenzie, an interior-designer, who started in the Bay Area before making his way back to Maui through the wedding industry, has a unique relationship with visitors coming in for events. "Currently (this week and next) we are in Graduation and Public events. Tenting, chairs, tables and linens are currently going out to create a space for celebrating Graduations and family get togethers commemorating their loved ones that have passed," Tyler relays the current event trends. "We also produce large-scale destination weddings that have us creating one-of-a-kind installations that the Bride and Groom have carefully thought through. Outside of the box designs are personally my favorite. I like creating one-of-a-kind atmospheres that my clients have dreamt of."
For any members coming to our summer mixer, be sure to get comfortable in the lounge sets and pop-up bars that Accel will be providing. We hope you get to know and like this new member of Maui Hotel and Lodging community as much as we do.
A hui hou!
Photo Caption: Adam Smith, Tyler Mackenzie, Gabrielle Richter, Naomi Cooper