On June 3, 2023, we attended the 14th annual Ag Fest & 4H Livestock Fair at the War Memorial Complex in Wailuku. MHLA once again sponsored the Maui Legacy Farmers Pancake Breakfast, supporting Fairmont Kea Lani and their Executive Chef Michael Lofaro's classic meal of pancakes, breakfast sausage, scrambled eggs, Maui Gold Pineapples, and Maui OMA Coffee. Alakaʻi Paleka, KPOA radio personality, entertained the early morning crowd with noteworthy commentary on the last paniolo legacies of our time. Ranch and rodeo stories of Honolua, Nahiku, Keanae and Hamapuapoko filled the tent while acknowledging the legends of their ag-knowledge, stamina and back-breaking work that built Maui's mahiʻai and hanai holoholona culture. Legacy Farmers of 2023 include Geoff Haines, William "Bill" Eby, David Brown and Carl Bredhoff.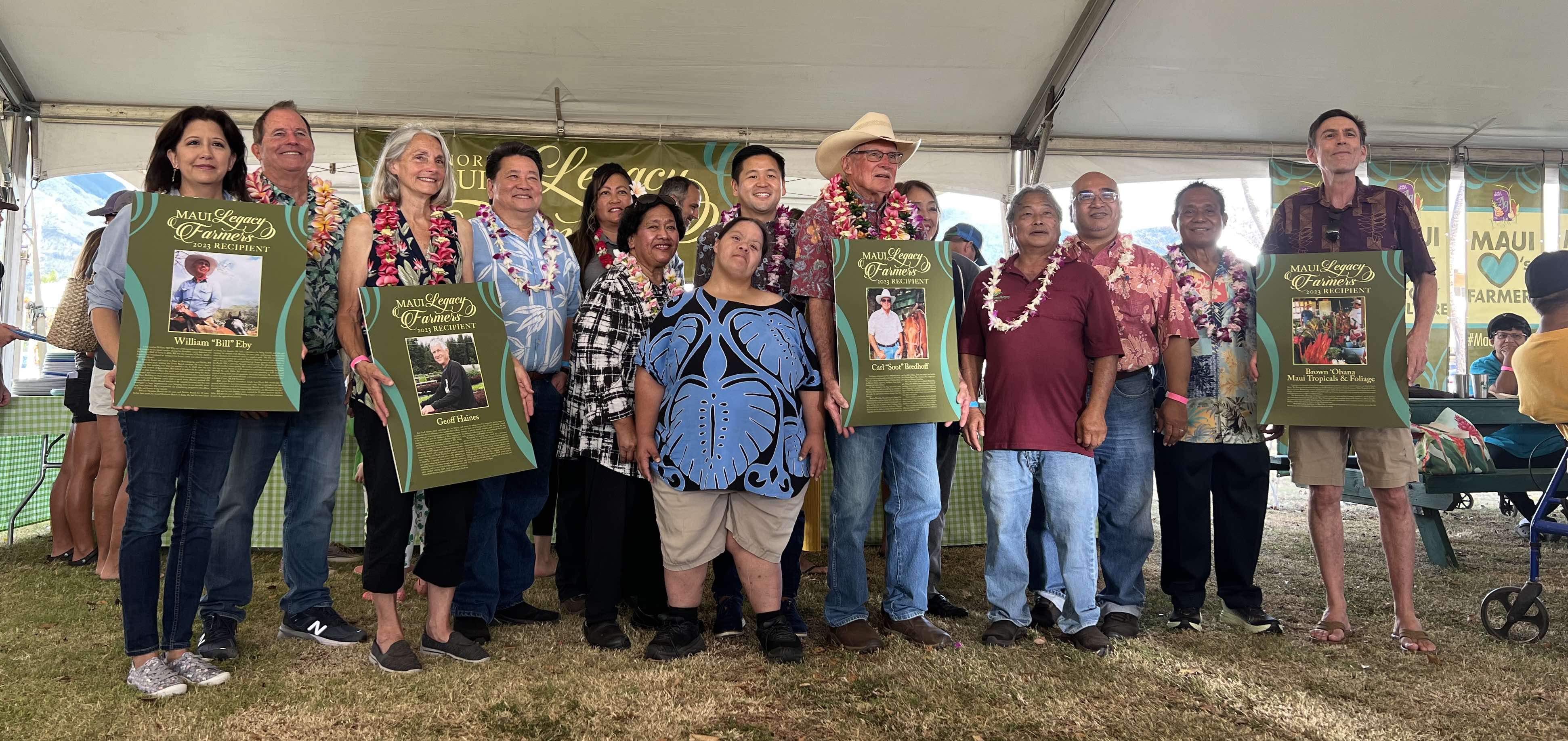 Later that day, The Annual Grand Taste signature event indulged crowds in the famous dish competition. This yearʻs participating chef line up included:
Jessie Anacieto, Roy's Kā'anapali
Rhoderick Bulosan, Kaʻana Kitchen
Matt Dela Cruz, Humble Market Kitchin'
Kalei Ducheneau, Mala Ocean Tavern
Brian Etheredge, Tails Up!
Ryu Ibuos, Umi Seafood & Sushi
Ryan Luckey, Leilani's on the Beach
Joey Macadangdang, Maca Dang Dang Maui
Marc McDowell, SixtyTwo MarcKet
Damian Rubio, Merriman's Kapalua
Alvin Savella, Duckine
Buying local, supporting local farms and agriculture on island is a neccessary component of keeping Maui sustainable and self preserving. Many hotels, properties, resturants and other food services use locally sourced ingredients and incorporate Mauiʻs natural resources into their business. We are proud of the chefs who presented such cultivation at the Grand Tasting!

Congrats to the 2023 Overall Grand Taste Winner, Joey Macadangdang of Maca Dang Dang Maui and the other winners of this yearʻs competition. Best Protein Winners included 1st Place, Joey Macadangdang of Maca Dang Dang Maui, 2nd Place, Jessie Anacieto of Roys Kā'anapali and 3rd Place, Brian Etheredge of Tails Up! Best Vegetable Winners included 1st Place, Kalei of Mala Ocean Tavern, 2nd Place, Alvin Sevella of Duckine and 3rd Place, Ryan Luckey of Leilani's on the Beach. Finally, the Tylun Pang Fan Favorite Winner was Jessie Anacieto of Royʻs Kā'anapali.
Photo credits: MHLA.