WAILUKU, MAUI – The Maui Hotel & Lodging Association (MHLA) is excited to announce its early endorsement of Josh Green for Governor. This endorsement was supported by MHLA Board members representing hotels, restaurants, activities, and other businesses working with the Maui County industry.
MHLA Executive Director Lisa Paulson cited Green's steady leadership throughout the COVID19 pandemic and praised him for his efforts to balance public and economic health across the state.

"Lieutenant Governor Green worked every day to keep us safe and informed during an unprecedented pandemic that disproportionately affected the local hospitality industry," said Paulson. "Our association—and the industry in Maui County—are extremely grateful to him for his leadership during these difficult times."

Green thanked MHLA for its early endorsement and reiterated the importance of saving the tourism economy throughout the pandemic.

"There were contingency plans that wouldn't have allowed [the state] to fully open for another eight months," said Green. "That would have been an impossibility for you in the tourism industry and across our economy, which would have meant hundreds of thousands of people would have been housing-unstable, food-insecure, unable to pay their mortgages, and unable to take care of their keiki."

"[The tourism industry] provides so many valuable things, and it's not just the economy. It's the tradition of education and advocacy from this organization, but it's also your philanthropy. When we had doctors and nurses burning out, and in a desperate state, you provided a home and respite through the Hotels for Healthcare Heroes program. You sustained their spirits as they worked to keep us alive," added Green.

Green also shared that he plans to install tourism-specific positions in his potential administration. "We have to transition to the new model of tourism," said Green. "I intend to place someone in my administration to oversee this transition safely and consistent with your values."

Paulson noted the industry's need for allies during a time when tourism faces countless challenges and community concerns. "The Lieutenant Governor understands our community challenges while acknowledging hospitality's position as its top economic driver."

MHLA is a nonprofit organization founded in 1987 to advocate for the Visitor Industry. The organization also provides educational opportunities via the Academy of Hospitality & Tourism and scholarships for UH Maui College students; and benefits the community via the annual Visitor Industry Charity Walk, Excellence in Education golf tournament, and Kupuna Dinner.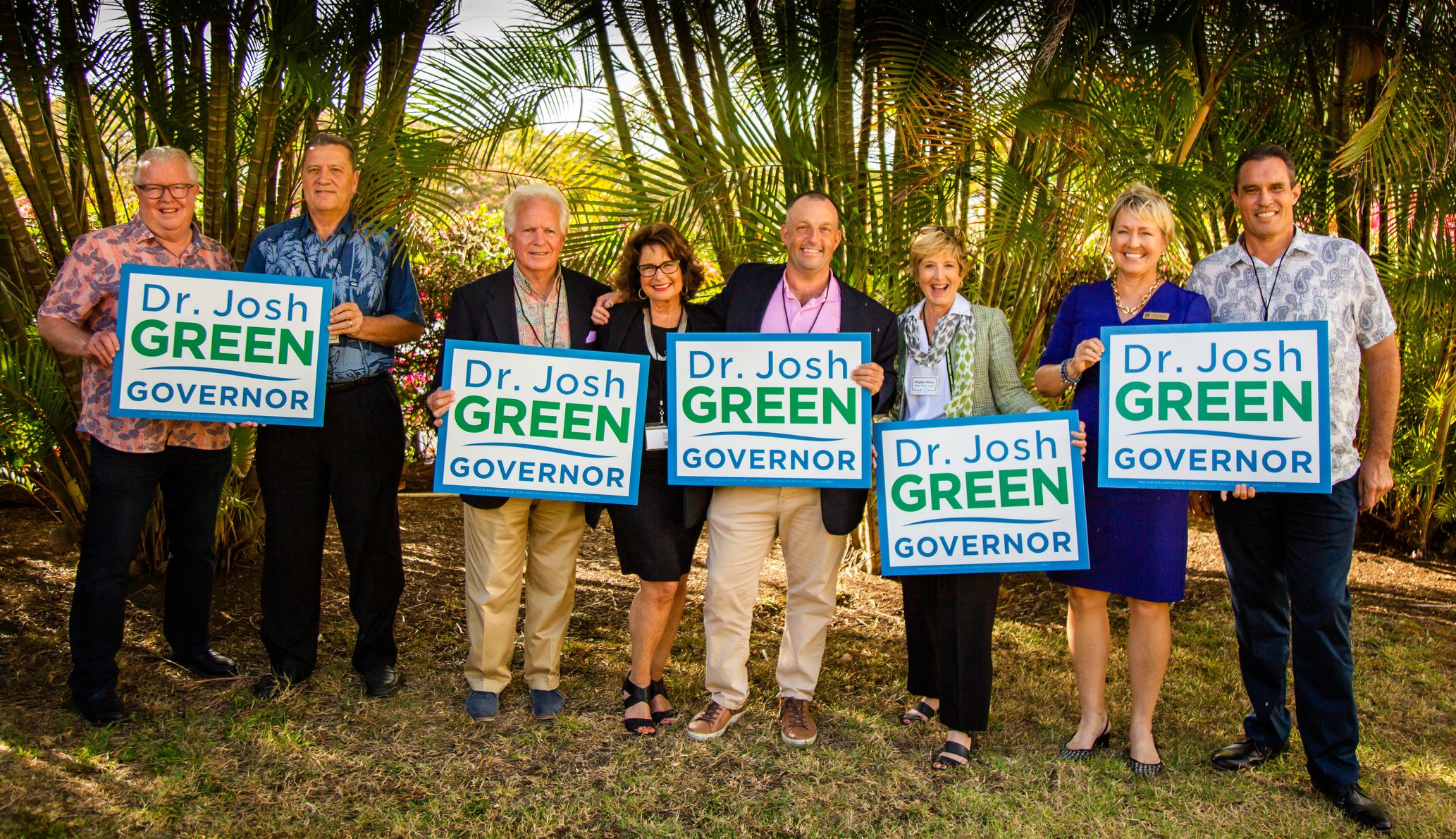 Industry Members celebrate their endorsement of Josh Green from l-r: Jerry Gibson, President, Hawaii Hotel Alliance; Bill Countryman, GM Maui Ocean Club; Gregg Nelson, GM Napili Kai Beach Resort; Diane Haynes Woodburn, Publisher Maui No Ka Oi Magazine; Lt. Governor Josh Green; Angela Vento, GM Wailea Beach Resort; Lisa Paulson, Executive Director Maui Hotel and Lodging Association; Ryan Nobriga, GM The Westin Ka'anapali Ocean Resort Villas