Saturday, May 6, 2023
War Memorial Special Events Field
*PARKING IS LOCATED ONLY AT THE WAR MEMORIAL FOOTBALL STADIUM PARKING LOT

6:30 AM Registration
This is for late or individual walker registration and additional donations only. Please note that if you have already submitted your Team Registration Deposit Envelope, you DO NOT need to check in at the registration desk.
Pre-Registration deadline is 4 PM Wednesday, May 3 at the Maui CW Headquarters located at 85 N. Church Street. Be sure to pre-register your teams by then to be eligible for awards and givaways!
7:00 AM Charity Walk Begins at the Start Line
The walk route will close at 7:30 AM. Anyone who has not started the walk by this time will NOT be allowed on the course.
8:00 AM Festivities Under the Main Tent Begin
Delicious breakfast, Entertainment by Nuff Sed, and amazing giveaways and prizes!
2023 Route Map: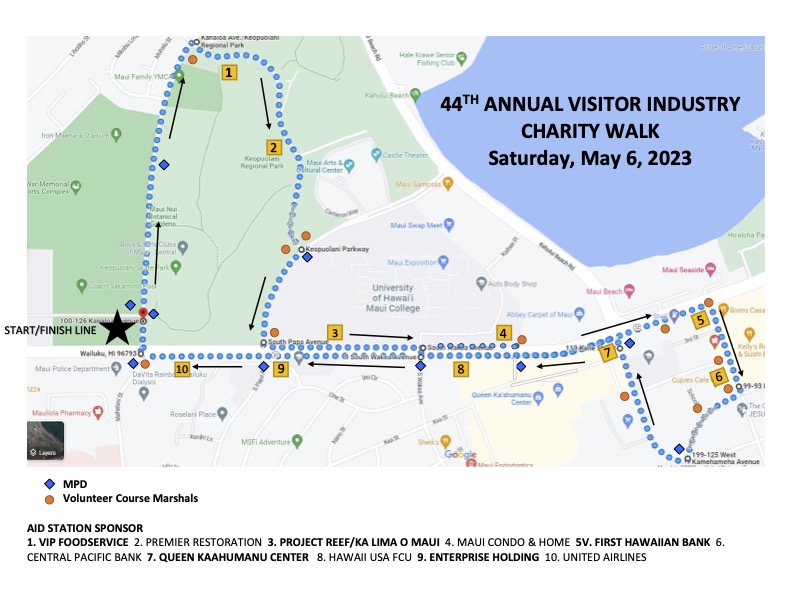 # # #
ABOUT THE MAUI VISITOR INDUSTRY CHARITY WALK

The Visitor Industry Charity Walk is one of the hospitality industry's way of giving back to our communities. It is one of the largest single-day fundraising events in Hawaii with walks on Kaua'i, Oahu, Hawaii Island, and of course Maui Nui. Together the state raised just over $2 million in 2022. Maui County alone contributed to that, and raised $1,063,027 benefiting more than 50 Maui County non-profit agencies!
Since Maui Hotel & Lodging Association started hosting the Charity Walk in 1980, we have raised a cumulative total of $16.5 million in Maui County. And most importantly all of the money raised here, stays in Maui County, benefiting our residents.
HOW TO GET INVOLVED
Who can participate? ANYBODY! You do not have to be a hotel employee, a member of MHLA, or part of the visitor industry to participate. Invite your family, friends, neighbors, co-workers, clients, schools, clubs, visitors, and guests. Team registration will open in February 2023.
NONOPROFIT PARTICIPATION & GRANTS

The first 100 nonprofit organizations to complete and submit a Grant Application will be eligible for the Maui Visitor Industry Charity Walk (VICW) grants funding. Eligible nonprofit organizations include but are not limited to, Associations, Foundations, and Schools. Proof of non-profit status is required. All applicants MUST be based within Maui County and actively participate in the Maui County 2023 Visitor Industry Charity Walk held in May 2023.
All grant funding must be used to fund programs in the County in which the funds were raised and utilized to benefit that community. Funds will not be granted for capital fund drives, purchase of tangible real property or personal property, or interest or reduction of deficits or loans. 501(c)3 non-profit organizations in the state of Hawaii are eligible to apply for Visitor Industry Charity Walk Grants. Grants will be considered on the basis of an organization's community impact and may vary widely in scope and size. Grants are not a source of guaranteed continuous funding.