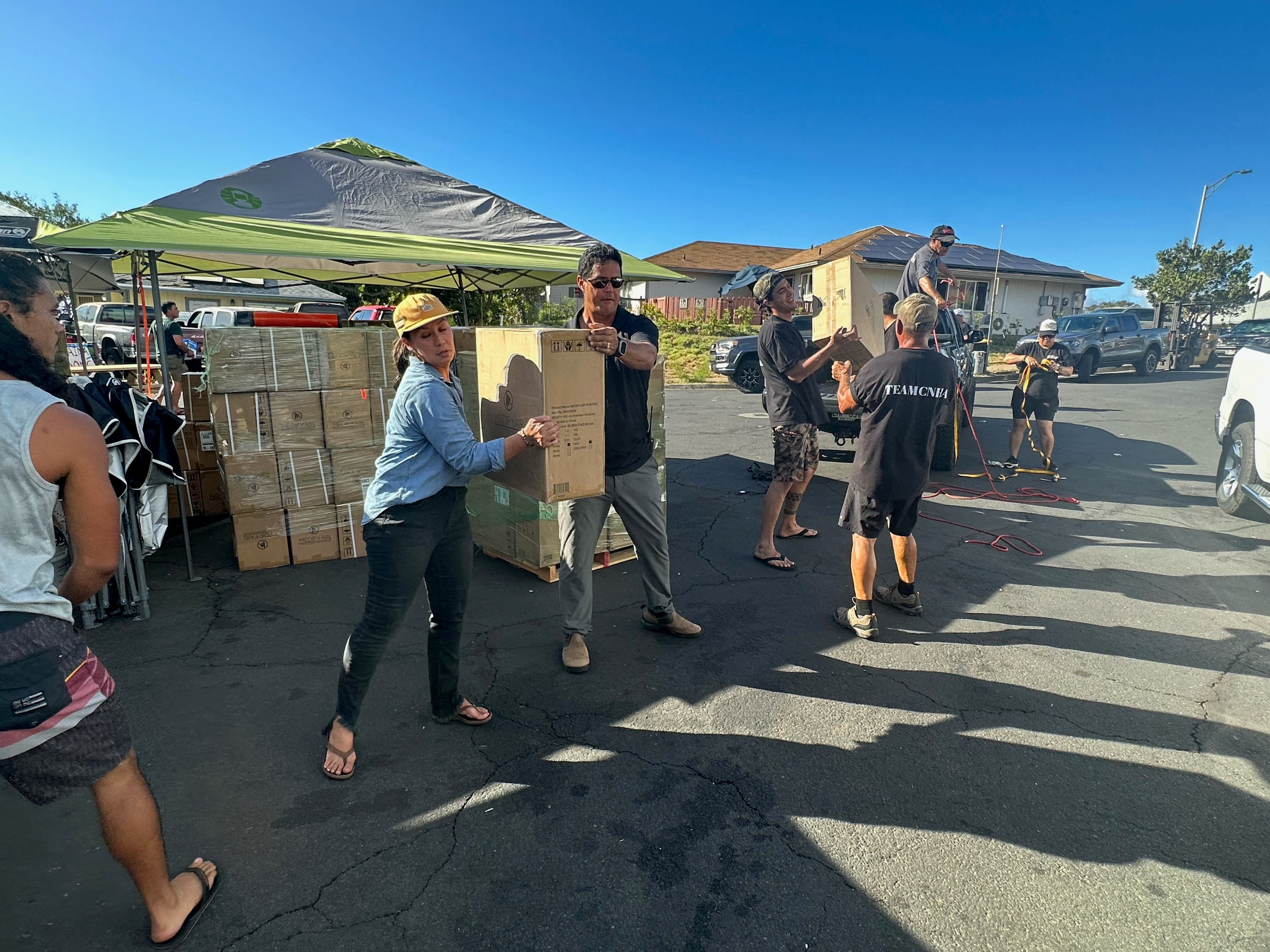 WAILUKU, MAUI – In the wake of the fires on August 8th, MHLA reached out to many contacts to help evacuation efforts as soon as possible. One of the first to respond to the call was Southwest Airlines on August 9th. They immediately lowered fares for tickets leaving Maui down to $19 a seat, helping many surviving visitors and residents to leave the island in the midst of chaos and lead the way for other airlines to follow. Southwest did not just stop the relief efforts there, but continued support through supplies and outreach, including being the safe haven for team members.

"Good culture is not something handed on a platter, it doesn't just happen," explained Kelly Knox, the Senior Community Outreach Regional Manager for Southwest Airlines. "It's intentional, it's something you work for, and we must keep culture top of mind." Kelly has been instrumental in developing Southwest's presence in Hawaii, noting how different each island is from each other and how truly special Hawaii's culture is, unlike any other market. With recent launching of Southwest's customized Imua One airplane and its welcoming ceremony at the Kahului airport this past Spring, Kelly explained how the Southwest way married the Aloha way and made that commitment clear long before the wildfires took place.
In April, MHLA along with others, were honored to join the Southwest executive staff, flight crews, frontline workers, as well as a Kahu at the arrival of their Hawaii dedicated plane, Imua One. Southwest hosted in a blessing with Hawaiian prayer, protocol, lei and a dinner celebration to follow the ceremony, demonstrating their embrace and commitment the island way.
While Southwest has thirteen aircrafts that are customized to represent the regions that Southwest routes, Hawaii's customized plane is the only one of those thirteen to not be marked with a state flag. Kelly explained the due diligence Southwest did in their research and sensitivity to Hawaii's past and therefore, understood that the Hawaiian flag can be misrepresented or signal different meanings depending on the context. Southwest invited three cultural advisors, Hawaii based marketing firms and the Hawaii hires to educate their executives on how to correctly enter the Hawaiian Islands with the words, relationship style and symbology of storytelling that became the design on their plane. It is apparent from the well-received reaction of Hawaii, that all of Southwest's efforts were worth it.
Being accepted here in Hawaii is only the first step of being taken seriously by local market, for many transportation companies have attempted the feat only to end up in the red or the brand rejected. Southwest, being more egalitarian in view, felt Hawaii deserved competitive options, something fair to the locals. While the initial $39 flights they offered were not sustainable, it was something the majority of Hawaii needed and unlike other brands who attempted such before, Southwest has large company resources and markets to balance against any losses.
Maintaining lower costs is another way Southwest stays successful against the odds. Southwest utilizes their planes more than other brands do, leaving no time of planes sitting long between flights which would waste profitability. Choices like having simpler seats without the extra options or built in tablet screens means less upkeep and less weight on the plane which in turn, means less gas and less expenses to cover. Observing consumer habits, most flying customers have their own tablets and smart phones anyway, so setting up a simple in-air Wi-Fi option allowed customers more control and Southwest to keep the flight price down. Likewise, switching from printed in-house magazines to a condensed digital download version after the pandemic, allowed less printing costs, less environmental waste and again, less weight for the plane to carry, which keeps costs per seat cheaper to the customer.
Additionally, Hawaii's smaller business can gain from Southwest rapid rewards program as it awards flying points to both the individual AND the company for the same flight. With less fees, more flight reliability stats than most carriers, these are incentives attract the 5-10 employee type company. In terms of nonprofit partnering incentives, Southwest also awards free flights to nonprofits for whom their employees choose to give volunteer hours to. Every 40 hours of volunteer service Southwest employees give to a nonprofit of their choice awards a free round trip ticket for that nonprofit to determine.
However, the biggest reason Southwest seems to have found acceptance in Hawaii is with the "take care of the employees" mentality, understanding that taking care of your own will lead to the team taking care of the customer. For example, their frontline workers are some of the best paid in the business with salaries still increasing. There are no vastly inflated executive salaries and their CEO takes responsibility for setbacks, leading without blame nor deferring answers. For company gatherings, the senior executives sit on the same buses as their managers and team leaders creating a humble atmosphere of trust and admiration. Therefore, with minimalistic practicality, relaxed leadership style and strong sense of community values, it seems apparent why Southwest became hānai family here in the islands. We are proud to call Southwest a member of Maui Hotel and Lodging Association and blessed to have SW sponsoring the Excellence in Education Golf Tournament this November.
A hui hou!
Photo Caption: (top) Southwest helps with supplies for #MauiStrong after fires, (below) Imua One Plane, (Header Image) Blessing Ceremony for Imua One at OGG April 2023.