MAUI COUNTY'S 39th ANNUAL VISITOR INDUSTRY CHARITY WALK ONCE AGAIN BREAKS RECORDS AND SURPASSES ONE MILLION DOLLAR GOAL RAISING $1,159,053
– Visitor Industry Gives Back to the Maui County Community
WAILUKU, MAUI – The Maui Hotel & Lodging Association (MHLA) celebrated 39 years of giving back to the community with its annual Visitor Industry Charity Walk on Saturday, May 13. A notable 2,600 walkers gathered at the War Memorial Soccer Field for an amazing and fun-filled morning of exercise, good food, great prizes and fabulous entertainment. At the end of the day, an impressive total of $1,087,009 was raised on Maui alone – breaking the million-dollar mark for the first time! The week prior, MHLA hosted walks on Molokai and Lanai bringing in $33,654 and $38,390 respectively for a GRAND TOTAL for Maui County of $1,159,053; an increase of $125,670 from last year!
Participants in the Walk include visitor industry workers, non-profit agencies, and business representatives. Many of these hard-working walkers begin their fundraising efforts months prior to the event by collecting pledges, hosting bake sales, chili & stew cook-offs, benefit luaus, car washes, golf tournaments, tug-of-war competitions, a kickball tournament, even dunking booths and concerts.
The Grand Wailea took top honors for the property bringing in the most with $54,000. Bank of Hawaii was the business who raised the most at $12,454. Winning the award for non-profit raising the most was West Side Hoops who collected $109,570. Top individual fundraiser was Dan Williams of West Side Hoops who collected $48,325. Property raising the most per capita was Maui Condo and Home at $360 per employee. And for the fifth year in a row, Tri-Star Restaurant Group took first place in raising $6,500 for the restaurant category.
Top fundraisers include:
Individual Raising the Most Funds:

1st Place: Dan Williams, Westside Hoops: $48,325
2nd Place: Genevieve Ruvald, Westside Hoops: $45,200
3rd Place: Mitch Mitchell, Hale Makua Health Services: $31,175
Business Raising the Most Funds:

1st Place: Bank of Hawaii: $12,454
2nd Place: Maui Vacation Rental Association: $10,277
3rd Place: VIP Food Service: $4,423
Non-profit Raising the Most Funds:

1st Place: Westside Hoops: $109,570
2nd Place: Maui Memorial Medical Center Foundation $84,523
3rd Place: Hale Makua Health Services: $81,955
Hotel Property Raising the Most Per Employee:

1st Place: Maui Condo & Home Vacations: $360/employee
2nd Place: Kahana Falls: $260/employee
3rd Place: Maui Beach Hotel: $136/employee
Property Raising the Most Funds:
1st Place: Grand Wailea Resort & Spa: $54,000
2nd Place: Hyatt Regency Maui Resort & Spa: $32,848
3rd Place: Marriott Maui Ocean Club: $20,330
Restaurant Raising the Most Funds:
1st Place: Tri-Star Restaurant Group: $6,500
"Today was a beautiful day of the community coming together to raise funds for Maui County, enjoy time with friends, wonderful entertainment, good food and fantastic prizes. The Maui community has once again shown their generosity, volunteerism, and compassion in raising funds for the Charity Walk on Maui! And most importantly, all monies raised on Maui, stays in Maui County," said Lisa Paulson, Executive Director of the Maui Hotel & Lodging Association. "Our ability to provide for Maui's non-profits is a direct reflection of the integrity & philanthropic conviction of the visitor industry. This community is so strong and committed to caring for everyone - our island continues to raise more funds per capita than any other island in Hawaii."

The Visitor Industry Charity Walk is a statewide event that takes place on Maui, Molokai, Lanai, Oahu, Kauai and the Big Island. The Charity Walk is one of Hawaii's largest single-day fundraiser with thousands of walkers and typically raises almost $2 million annually to benefit charity. Funds will continue to roll in throughout this month. Final amounts raised will be announced at the Charity Walk Reception on August 10.
Mark your calendar for next year's Visitor Industry Charity Walk – Saturday, May 12, 2018.
For additional information, please contact us.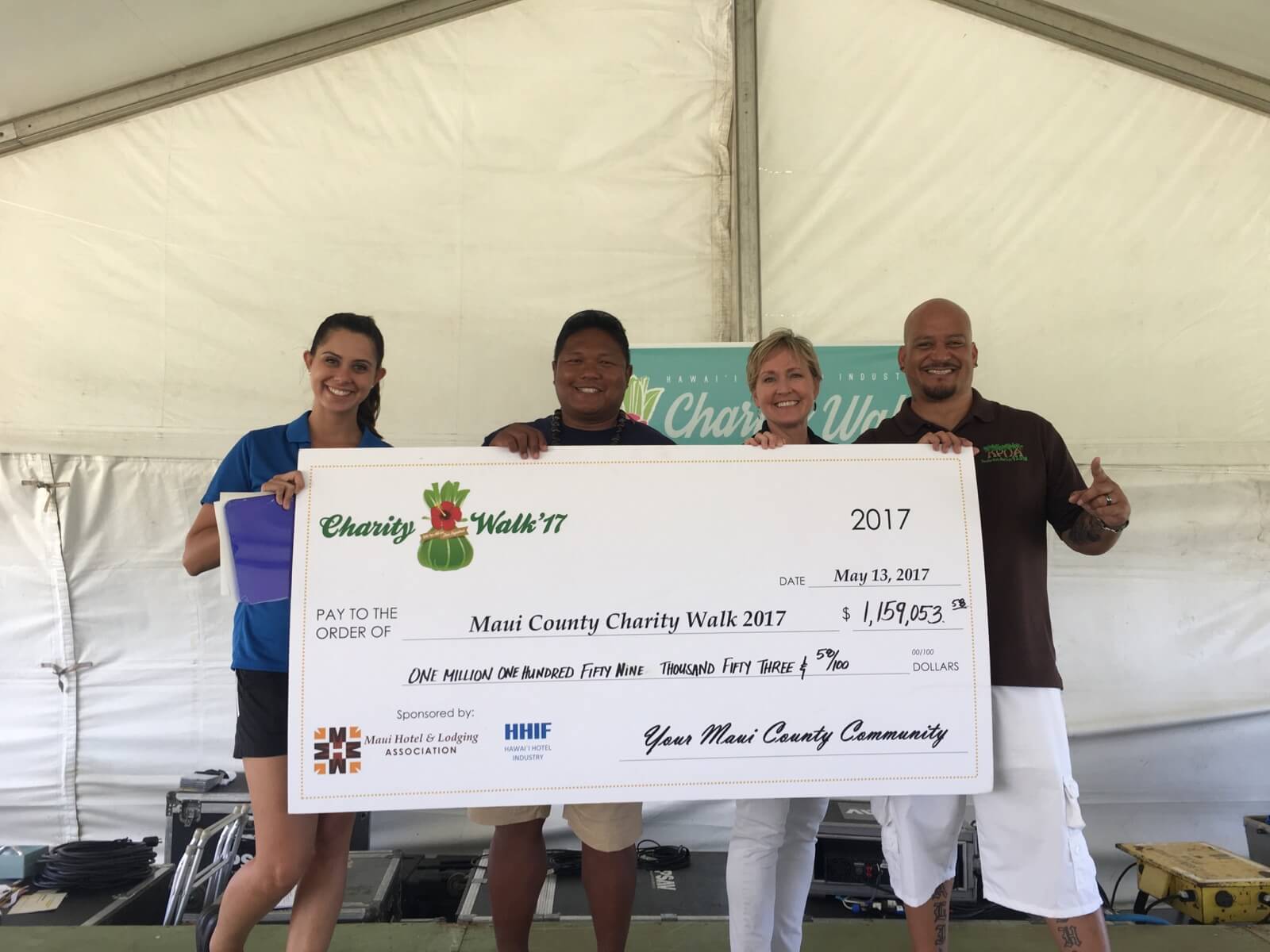 Charity Walk Check Presentation, (L-R): Chelsea Davis, Hawaii News Now; Greg Peros, Maui County Charity Walk Chair and GM at Maui Beach Hotel; Lisa Paulson, MHLA Executive Director; Shane Kahalehau, KPOA