WAILUKU, MAUI - The Maui Hotel & Lodging Association announced its Charity Walk final amount raised for Maui County during the 43rd Annual Visitor Industry Charity, which reached its one-million-dollar goal for the sixth year with an impressive $1,063,027.

In a special Charity Reception held at The Andaz Maui at Wailea, Maui, on November 9, benefiting non-profit organizations were honored in appreciation of their participation in the annual event, which emphasizes and validates the Visitor Industry's commitment to the community. In addition, the following fundraising teams were recognized for their top fundraising efforts:
Non-Profit Agency Raising the Most:
1st Place: Feed My Sheep - $150,000
2nd Place: Hale Makua Health Service - $111,420
3rd Place: Maui Economic Opportunity - $54,409
The Charity Walk is one of the largest single-day fundraising events in Hawaii. Statewide $2.2 million was raised via walks held on Maui, Oahu, Kauai, and Hawaii Island. Maui continues to raise more dollars per capita than any other island and, for the thirteenth year in a row, raised more money than any other island in the state! Since the Maui Hotel & Lodging Association (MHLA) started hosting the event in 1980, Maui County has raised a cumulative total of $16.5 million, benefiting hundreds of non-profit organizations on Maui, Molokai, and Lanai. And most importantly, all the funds raised on Maui remain in Maui County to benefit the local community & its residents.
The annual Charity Walk is the Visitor Industry's way of giving back to the community. Many MHLA property & business members work year-round to raise funds for this worthy endeavor. "Our industry remains committed to providing for and positively impacting the lives of our residents of Maui County," says Lisa Paulson, Executive Director for the Maui Hotel & Lodging Association. "We are thrilled to have surpassed the one-million-dollar mark for the sixth year.
The additional funds enabled us to award significant and valuable funding to worthy Maui County organizations. The range of services of these recipients touches many residents' lives, from children to the elderly, from athletic organizations to service-related agencies; from health to housing."
MHLA is a nonprofit organization founded in 1987 to advocate for the Visitor Industry. The organization also provides educational opportunities via the Academy of Hospitality & Tourism and scholarships for UH Maui College students; and benefits the community via the annual Visitor Industry Charity Walk, Excellence in Education golf tournament, and Kupuna Dinner. For additional information, contact MHLA at 244-8625 or [email protected]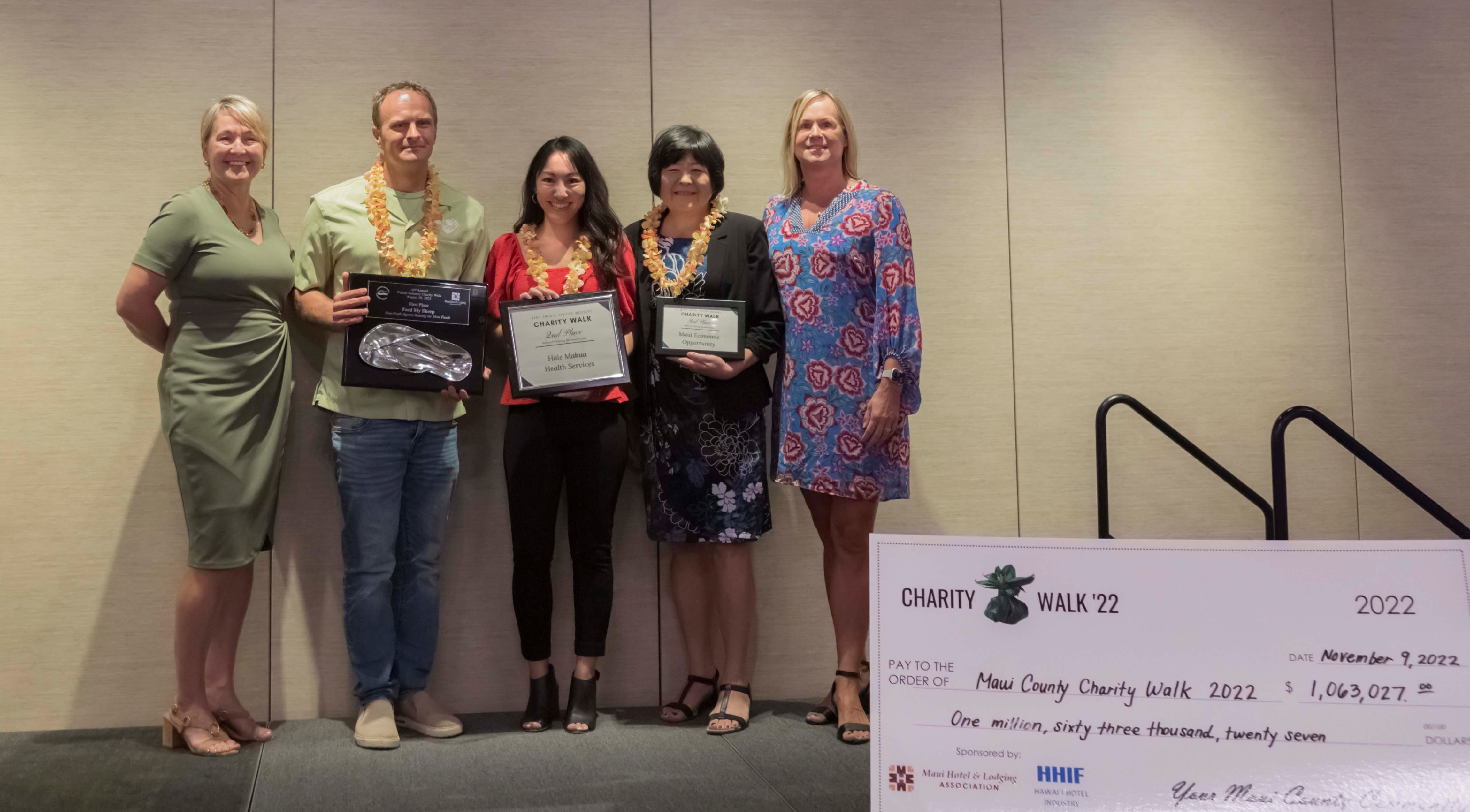 Maui County Charity Walk top non-profit agencies recognized (l-r): Lisa Paulson, Executive Director – Mau Hotel & Lodging Association; Scott Hopkins, Executive Director - Feed My Sheep; Ashley Takitani-Leahey, Director of Communications & Development - Hale Makua Health Services; Gay Sibonga, Chief Operating Officer - Maui Economic Opportunity; Dena Roady, Area Vice President – Hyatt Hotels Hawaii and General Manager – Andaz Maui at Wailea and 2022 Maui Charity Walk Chairman